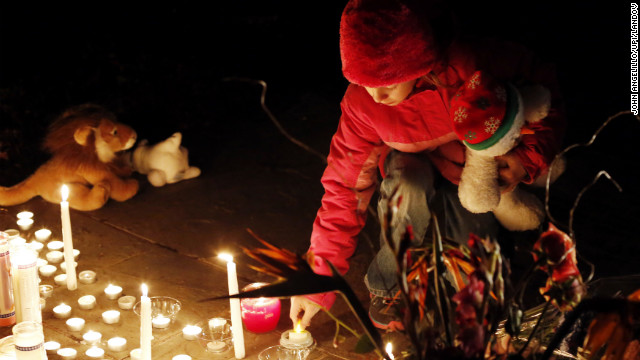 There are no words to explain or rationalize what happened at Sandy Hook Elementary on December 14th, 2012. It is truly a tragedy, and moving forward, we must focus on the impact that it may have on the students we work with. As school psychologists, we need to continue the job that our fallen Sandy Hook colleague, Mary Sherlach, lost her life doing:
helping our students.
Below is a list of resources to help students and families cope with crisis and tragedies, and the feelings and fears that may arise from such events. This is by no means exhaustive--PLEASE share further resources that have been helpful to you in your practice.
Tips for Teachers and Parents Following School and Community Violence
(PowerPoint; NASP)
School Shootings: How to Empower Kids in the Face of Armed School Violence
(KidPower)
15 Ways to Help Your Child Through Crisis
(KidsPeace)
Talking With Kids About News: Age-by-Age Insight
(PBS Parents)
Helping Kids Cope: When the Unthinkable Happens in Your Backyard
(NYU Child Study Center)
Caring For Kids After a School Shooting
(Child Mind Institute)
Tips for School Administrators for Reinforcing School Safety
(NASP)
The 12 Core Concepts: Concepts for Understanding Traumatic Stress Responses in Children and Families
(National Child Traumatic Stress Network)
Crisis or Trauma Reactions
(NASP)
Talking With Children About Difficult Subjects: Illness, Death, Violence, and Disaster
(NYU Child Study Center)
Talking to Children About Violence: Tips for Parents and Teachers
(NASP)
A National Tragedy: Helping Children Cope
(NASP)
Kids May Ask Questions About the Newtown Shooting. Be Frank and Reassuring, Psychologist Says
(WFPL)
How to Help Children Cope with a Crisis
(Save the Children)
How to Talk to Your Kids About the Conn. Shootings
(NPR)
Helping Youth and Children Recover From Traumatic Events
(multiple links; Readiness and Emergency Management for Schools)
Talking with Students in Response to the Sandy Hook Shootings
(School Counseling by Heart)
Tragedy and Disaster Response Resources
(multiple links; School Counselor Blog)
Don't forget to check out and "Like" my Facebook page!